This set of four universal solar panel corner mounts can be used with any aluminium framed solar panel that has a lateral length of 150mm. 
Product: Solar Panel corner mount 15CM
Product No.: BS09009
Color: Black color
Packing: 4pcs per set,10set in out carton
Used for: caravan bracket /caravan mount /motorhome bracket /RV mount / RV parts /Outdoor accessory /solar accessory

The solar panel corner brackets can be used with any sized aluminium framed solar panel to provide a secure fixing for vehicles, caravans, boats, outbuildings etc. The solar corner mounts will support the solar panel at the optimum height above the surface to enable aeration from underneath, ensuring the solar panel functions as efficiently as possible.


Depending on the size and weight of the solar module and particularly if fixing the panel to a vehicle, it may be worth considering the addition of a spoiler set for additional support of the long sides of the panel, but for many installations the corner brackets will prove sufficient.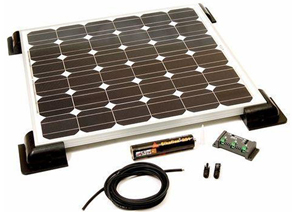 Bright Solar Power solar panel mounts are an ideal way to fix solar panels on the roof or deck of motor homes and boats. The mounts can be safely bonded to the surface removing the need to drill holes. The mounts also act as a wind deflector and maintain the correct air gap between the solar panel and the roof top / deck.

Compatible with 10W, 18W, 28W, 43W, 60W, 120W, 150W panels
Technical details:

    * ABS plastic in black
    * 100% recyclable
    * UV resistant
    * 50% weight reduction
Halte-Eckspoiler BS09009 für alle Module
Bewährte Qualität aus dem Fahrzeugbau. Vier Eckspoiler zur Klebemontage. Die Kunststoffprofile bieten Ihnen eine hochwertige Montagelösung. Hiermit schaffen Sie die optimale Verbindung aus Funktionalität und Optik. Der ABS Kunststoff ist UV-beständig.
CLICK for datasheet.